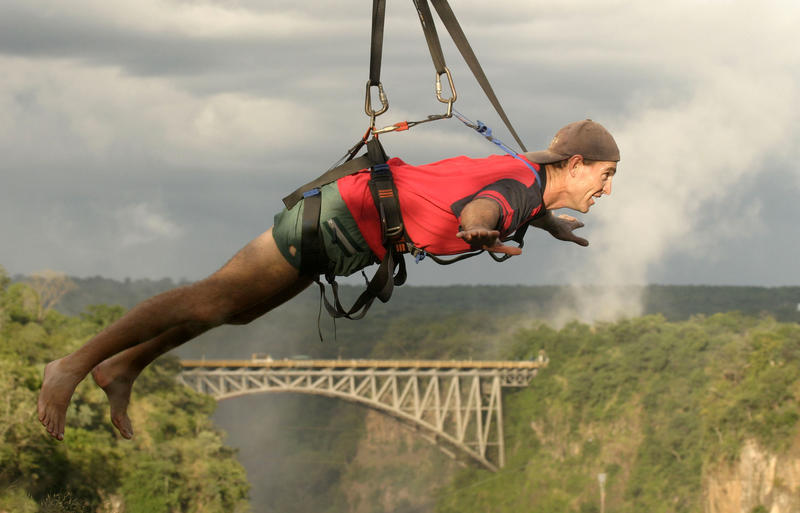 Fly over the gorge! Take a running jump into thin air over the chasm, soaring horizontally through the air over the turmoil of the Zambezi below.
Click to add this item to cart.
Product Description
Everyone dreams of having a superpower. With the Flying Fox, you can finally realize that dream of flying.
The adventure begins on a wooden platform, and with your heart racing and palms tingling, you can see the gaping mouth of the gorge and hear the roaring rapids below. With a harness secured, you take your first steps towards that feeling of flight. Take on the "superman position", so that you are horizontally suspended as you whiz through the air. Any fear you may have felt before is whipped away in the wind as you soar between the lips of the gorge above breathtaking views.
The gentle pace of the flying fox enables you to fully appreciate the vegetation that sprout from the cracks in the rock and climb up the black basalt. The sounds of the rapids churning below mingle with the calls of the birds that fly at what is now eye level.
The Flying Fox is perfect for those who crave a breathtaking view and the slightest adrenaline rush. This section of the gorge is 200 meters wide and 120 meters deep and more often than not, it whets your appetite for the faster, more thrilling high wire activities.
PLEASE NOTE: THERE IS A NATIONAL PARK FEE TO BE PAID IN CASH ON ARRIVAL